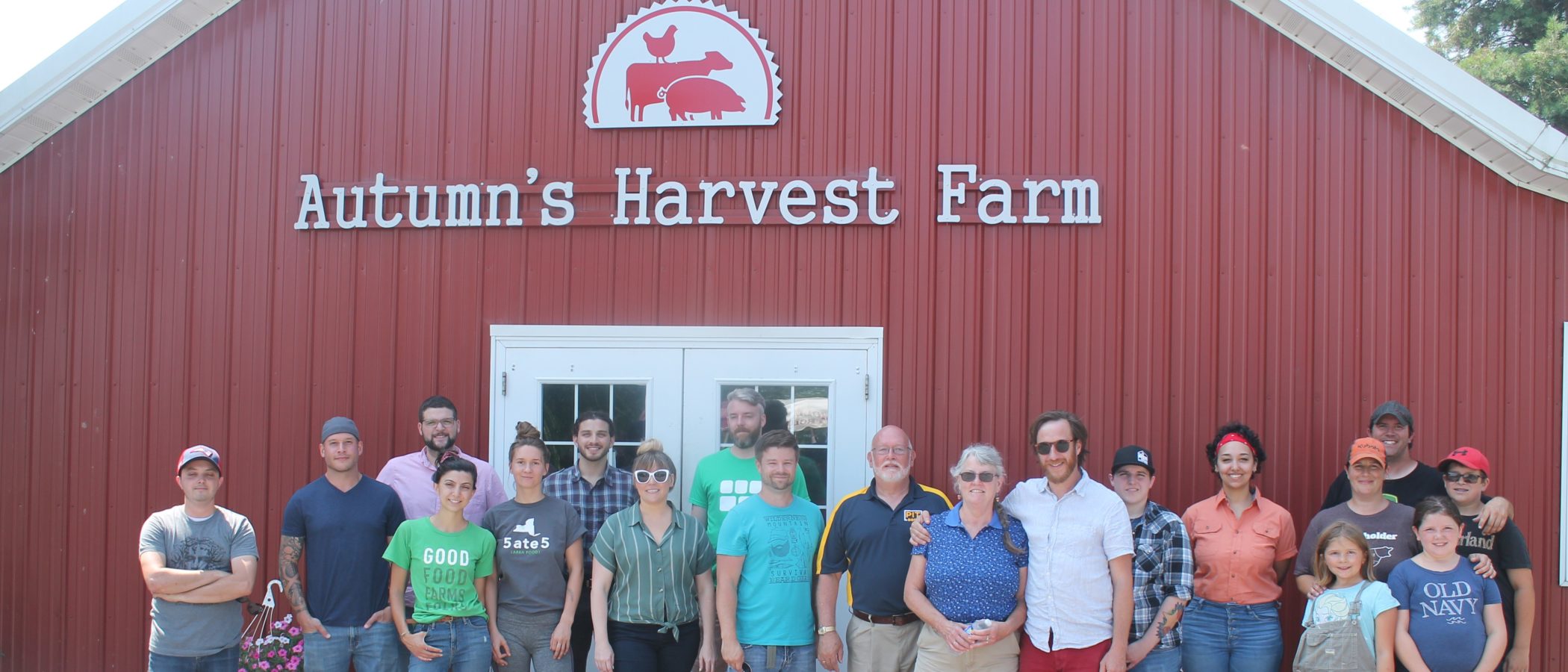 Sustainability in Dining
Sustainability is at the heart of everything we do! See how local, responsible purchasing and waste minimization are key elements of our program.
Our Mission
University of Rochester Dining Services will strive to conduct its activities in an ecologically sound, socially just and economically viable manner. Dining Services will strive to function as a member of a sustainable community, embodying responsible consumption, promoting ecological literacy and environmentally sound practices among students, faculty, and staff, and supporting these values in the local community.
Here are just a few ways we work to make our campus more environmentally conscious:
Local Purchasing
Did you know Dining Services sources food from many local farmers, growers and distributors? Currently over 60% of the products we sell and serve on campus are grown, produced or manufactured in New York State. We are extremely proud of this fact and are constantly looking for additional ways to support our local economy while providing our students with the highest quality products.
Take a look below at some of our local partners:
---
---
Responsible Purchasing Practices
We follow strict sourcing standards in order to deliver our guests premium ingredients with an emphasis on scratch preparation.
Our chicken is always antibiotic-free
All eggs are cage-free
Our beef is humanely raised and grass-fed, Certified Gap 4 or above
All seafood is certified Monterey Bay Aquarium Seafood Watch Best Choice or Good Alternative
Our milk and yogurt is always rbGH free
Every coffee shop on campus offers at least one Fair Trade certified option
Waste Minimization Programs
Dining Services is continuously working on initiatives that will eliminate pre- and post-consumer waste from our operations. Everyone can help make a difference!
Reusable Mug Program: Every guest who brings a reusable mug to our coffee shops (Starbucks, Peet's, Connections, The Pit, Hillside Market, Grab & Go, Eastman Dining Center) will receive a discount on hot/cold coffee or tea. Fill up your mug for just $1.39!
Elimination of Plastic Bags: New York recently passed a law that bans single-use plastic bags statewide, effective March 2020. Dining Services supports this ban and has stopped using plastic bags in all River Campus and Eastman School of Music dining locations and bookstores effective August 2019. We encourage the use of reusable bags in all locations.
Reusable Clamshell Program: Need to eat on the go? Our clamshell gives you the option to take your meals with you in a safe, sustainable way at Douglass, Danforth, The Pit, and Eastman Dining Center. Check with a cashier at these locations for more information.
We practice pre-consumer composting and recycling at all dining locations.
Used coffee grounds are composted at all coffee shop locations.
Danforth Dining Center operates a pulper to remove post-consumer waste from the waste stream.
Douglass Dining Center operates a bio-digester to eliminate post-consumer waste.
Dining Services participates in a Food Recovery Program that delivers unused foods to a local food shelter